A treasury of wit, wisdom and Irish blessings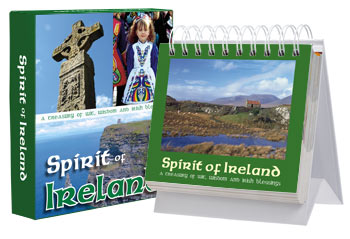 Spirit of Ireland has it all! Each page of this desktop quote book -one for each day of the year- contains a unique photograph of Ireland by award-winning Irish photographer David Knight, and an inspirational quote sure to make your day a grand day!
Enjoy a tour of the magical Emerald Isle with images of the people and places that make it special, and enjoy the wisdom from the land of saints and sages.
Nome Prodotto : Spirit of Ireland Lingua : Inglese
Id Prodotto : 424-2
Prezzo consigliato al pubblico: 12,99€ ISBN-13: 978-3-03730-424-2
Codice interno: EN-BA-CA-016-S
Autore: a cura di David Halfpenny e Maria Fontaine 366 pagine, con scatola
Peso: 505 gr.
Titolo originale: Spirit of Ireland © Aurora Production AG (Svizzera)